Memorials, Urns and Plaques in Montgomery County, Maryland
Merkle Monuments is the first choice for memorials, plaques, bevel markers, & more.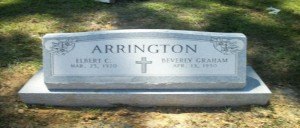 It can be difficult to find the right way of honoring a life that has passed. During your time of grief, all the options, salesmen, and high prices can be overwhelming.
That's why here at Merkle Monuments, we want to make the process as easy as possible. Our friendly team can walk you through your options, helping you decide on the perfect memorial item for your loved one.
We are proud to have served Montgomery County, Maryland for nearly 100 years. Call now to learn more.
Cemetary Markers & Traditional Memorials in Montgomery County, MD
We offer grass markers, slant memorials, and traditional, upright headstones. Choose from high-quality granite or bronze.
Our design process provides you with a variety of granite colors to choose from as well as custom engraving options. Bronze memorials, on the other hand, can be easily manipulated for portraits or highly detailed artworks.
Custom Vases & Urns in Montgomery County, MD
If your loved one was cremated, we also provide custom vases, urns, and keepsakes in Montgomery County, Maryland.
The item can be customized to match any style or fit in any space. Our vases and urns come in a variety of colors, styles, and materials, including:
Metal
Wood
Composite materials
Granite
And more!
Signs, Metal Plaques & Landscape Lettering in Montgomery County, MD
While memorial items are our specialty, our engraving expertise allows us to also create signs, metal plaques, and landscape lettering.
Merkle Monuments makes it easy to title a building, mark a historical location, or honor a financial contribution. Whatever project you have in mind, we can achieve it.
Merkle Monuments provides memorials, monuments, bevel markers, mausoleums, and more to Maryland. Our service areas include Baltimore County, Frederick County, Montgomery County, Howard County, Anne Arundel County, Carroll County, Washington County, Charles County, Prince George's County, Kent County, Cecil County, Calvert County, St. Mary's County, and more.