The History of Merkle Monuments
Offering Memorials, Urns, and Mausoleums in Maryland
In 1931 Raymond G. Merkle and Edward Zepp stonecutters from Granite, Maryland, became partners. They started with a very small display and shop on Liberty Road in Rockdale.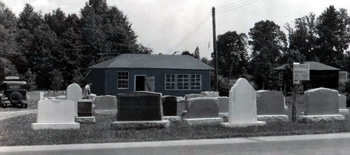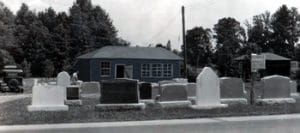 In 1933 Raymond Merkle purchased Edward Zepp's part of the company. He ran the business selling during the day and doing shop work in the evenings. May Merkle did the clerical work for the small business in their home located on the property.
An office was built from an old temporary school building bought from Randallstown in the late 1930's.
A new shop (still being used) was built after the War in the 1940's. At about the same time a branch office and display was opened in Woodlawn, across from Woodlawn Cemetery. In the 1950's J.C. Taylor Monuments sold their business and property on Taylor Avenue next to Parkwood Cemetery to Mr. Merkle and another Merkle branch office was established. The business was incorporated around this time with Raymond and May Merkle being the stock holders.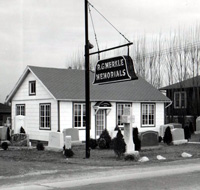 In 1956 Raymond and May's son Raymond Vernon Merkle joined the family business.
Another branch office was opened in Laurel in the early 1960's
In 1965 George M. Irwin, Son-in-Law of the Raymond and May joined the business.
In the 70's another branch office was opened in Frederick. We were honored that the Watts family, owners of U.A. Lough Monuments, chose the Merkle to carry on the business and name in Frederick.
Due to the change in commercial cemeteries wishing to monopolize the monument business it became necessary to move away from new competition to more rural areas where the business would be in the community and church type cemeteries.
In 1989 the 82 year old Joseph L. Mathias Monuments Company was acquired. Due to the passing of key active members the Mathias family granted Merkle the privilege of carrying on their business and name in Westminster.
Also at this time Geoffery Irwin, Grandson of Raymond G. Merkle and Jay Parson, Son-in-Law of Raymond V. Merkle joined the business taking it to the third generation.
The Main office is still located at the original location on Liberty Road, but has moved to the rear of the property allowing other commercial business to be located on Liberty Road.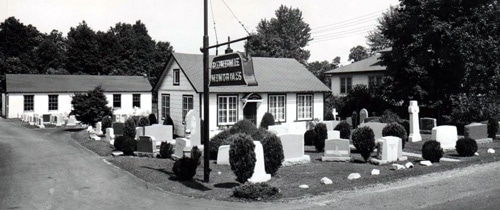 Merkle Monuments provides memorials, monuments, bevel markers, mausoleums, and more to Maryland. Our service areas include Baltimore County, Frederick County, Montgomery County, Howard County, Anne Arundel County, Carroll County, Washington County, Charles County, Prince George's County, Kent County, Cecil County, Calvert County, St. Mary's County, and more.