5 Things You Should (and 5 You Shouldn't) Leave at a Gravesite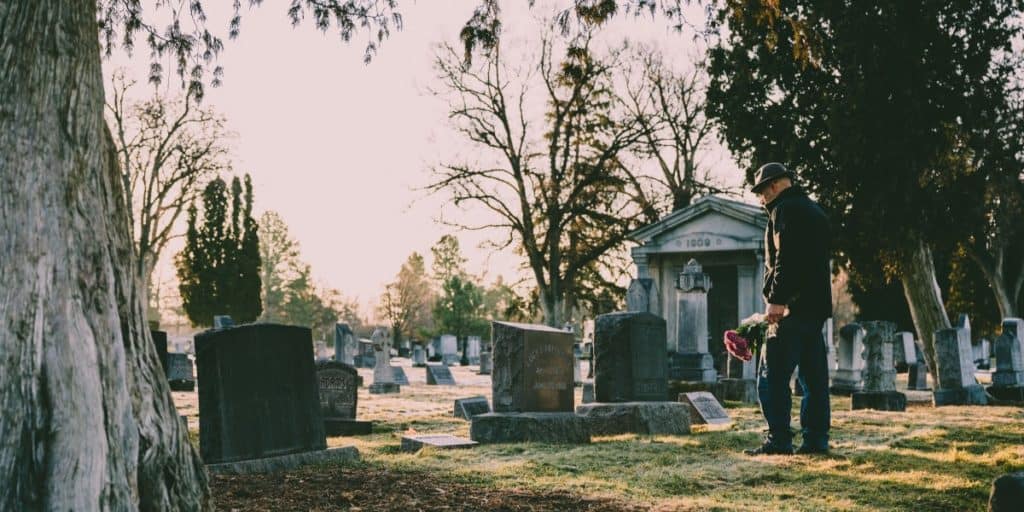 The gravesite of a loved one – or a much-admired public figure – can become a gathering place for the living to show their fondness for the departed and keep their memory alive.
Sometimes, people want to leave an item at the gravesite as a remembrance, whether it's flowers, a stuffed animal, or, in the case of William Faulkner's grave, empty liquor bottles. While it may seem like a great idea to leave a little memento on someone's grave as a memorial, there are some do's and don'ts about the practice:
5 Things You Should Leave at Gravesites
There are a variety of things considered "traditional" to leave at gravesites, and many of these things even are encouraged by cemetery managers to help keep the cemetery from feeling too bleak.
However, always check an individual cemetery's rules and regulations before planning to leave anything at a gravesite. When you do bring something, be sure that whatever you do bring won't blow away easily or otherwise impede the ability of the groundskeepers to maintain the lawns.
Here are 5 things you can feel pretty safe bringing with you when you visit a cemetery:
Flowers
Leaving flowers at a gravesite to show your respect for the dead is a time-honored tradition, with the flower-leaving starting right at a person's burial. 
Just be sure to check the cemetery's rules on what types – and even what sizes – of flowers and flower arrangements you can leave at the grave.
For example, some cemeteries only allow fresh flowers, as they decompose and they don't contribute to any lingering waste issues. If that's the rule at a cemetery you're visiting, don't bring artificial flowers with you. 
Whatever you bring, make sure it isn't tied with ribbons, plastic, or other items that can detach from the bouquet and blow away, or get carried away by animals.
Holiday Decorations
Many cemeteries encourage families to decorate their loved ones' graves for holidays, as these are times when many people make an extra trip to honor their loved one.
Bringing in festive bouquets and wreaths is great, as long as they follow cemetery protocol.
Like with everyday flower arrangements, if the cemetery doesn't allow artificial flowers, don't bring in artificial bouquets or wreaths. Yes, fresh may cost more and not come in as festive or pretty designs, but it's important to follow the rules of the cemetery.
Grave Blankets
No, we aren't encouraging you to spread out a picnic blanket on a loved one's grave, but the concept is similar.
A grave blanket is an evergreen arrangement of foliage that's woven into a flat shape to resemble a blanket. Most often, grave blankets are placed in late fall, before the first snow, as a symbolic way to "tuck in" the loved one before the cold winter weather sets in.
Coins
Leaving coins on graves is a tradition in many cultures.
You may see coins on the graves of members of the military, with each denomination of coin meaning something different. 
A visitor places a penny on the grave if they didn't know the deceased but want to show their gratitude for the person's service. A nickel means the visitor attended boot camp with the deceased, and a dime means they served with the deceased. A quarter means the visitor was with the deceased when they died.
In other cultures, such as many Latin American cultures, coins are left instead of flowers. Flowers can be expensive, so coins are small tokens almost anyone can spare when they visit to show their respect.
If you leave coins at a gravesite, be sure they're visible, such as left on top of the headstone. Don't expect them to be there the next time you visit; many cemeteries collect the left coins and use them to defray groundskeeping costs or donate them to a charity.
Stones
In the Jewish tradition, leaving stones at a grave is thought to either protect the grave from evil spirits, or keep the deceased rooted in the grave until final judgment. 
This is still a practice today for many of the Jewish faith, and leaving stones – small ones – is a sign of respect.
5 Things You Shouldn't Leave at Gravesites
While you may really feel that some specific item is the perfect tribute to your loved one, it isn't always a good idea to leave certain items. They can be difficult for groundskeepers, contribute to pollution, or even threaten local wildlife.
Here are 5 things you should not leave when you visit a loved one's grave:
Large Flags
While small flags on sticks, such as the ones you may see walking through a cemetery on Memorial Day, are completely acceptable, large flags are not in most cemeteries.
This includes decorative flags with favorite characters, as well as large national and state flags, or flags of military branches.
Not only can these larger flags be dangerous if they become detached and they can be distracting to other mourners, it can also be difficult for groundskeepers to respectfully dispose of tattered flags that have been left out too long.
Fencing
You may want to create a nice little space around your loved one's grave and think that low fencing is the perfect way to separate it from the rest of the plots.
However, fencing can be a hassle for groundskeepers and a hazard for visitors.
Vases
Leaving flower arrangements at a gravesite is perfectly fine, but be careful what they're stored in. Some mourners want to leave their flowers in a vase to keep them fresh for longer, which is a big no-no.
Most vases are made of glass or plastic, and can get broken. This can lead to sharp pieces on the ground which may injure people or animals.
If you're going to bring flowers, limit yourself to just a plain bouquet.
Stuffed Animals
Many people feel the need to leave stuffed animals at the graves of children, or even adults, as a reminder of the person who has passed. However, the elements can quickly get to them and become dirty and tattered. This creates a hassle for the groundskeepers and can cause the cemetery to look unkempt.
Some cemeteries do still allow stuffed animals, but realize that many of these facilities require the stuffed animals to be removed from graves shortly after they are placed.
Staked Decorations
Decorations such as hanging planters, pinwheels, and flags may seem like a great solution to the problem of items blowing away in the wind. 
But they can easily get trampled or tripped over, and may even damage lawnmowers when groundskeepers try to maintain the property.
High-Quality Headstones in Maryland
For more than 85 years, Merkle Monuments has created high-quality memorial markers, headstones, and other grave remembrances for families across Maryland. Whether you're looking to memorialize a recently deceased loved one or create a lasting tribute to a well-known person, our team of experienced stone craftsmen can give you what you're looking for. Get your project started today.