6 Famous Works Set in Cemeteries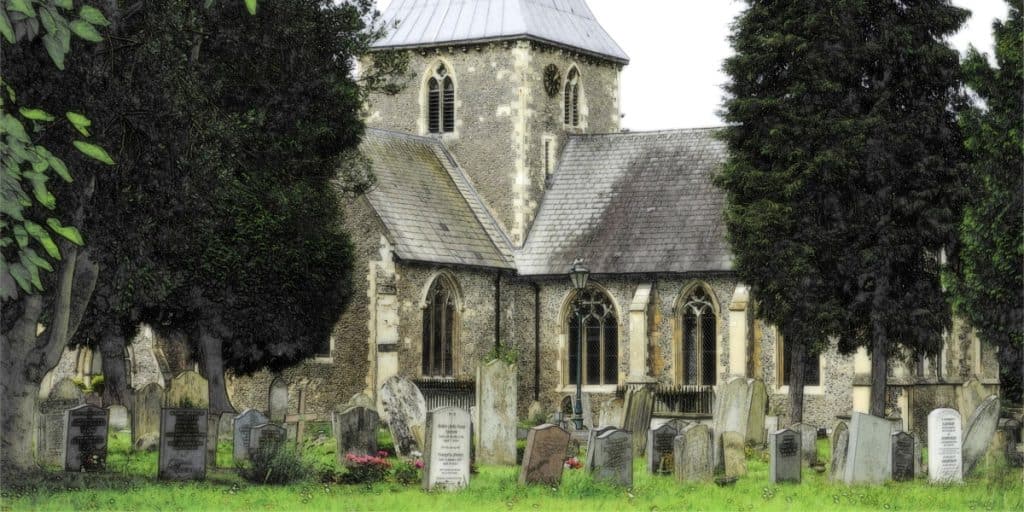 Cemeteries have long been the location of everything creepy and suspenseful in popular culture. From artwork to books, plays to movies, the mystery and atmosphere surrounding a cemetery is something that keeps calling artists back.
We're big fans of a lot of cemetery settings in popular culture, so here are some of our favorites:
"The Spoon River Anthology," Edgar Lee Masters
This series of free verse poems, later turned into a stage play, narrates the lives of the residents of the fictional town of Spoon River.
Masters modeled his collection off the epitaphs found in the cemetery near his home in Lewistown, Illinois, shedding light on the lives of rural Americans in the 19th century. Each of the 212 characters provides an account of their life, losses, and death, and the poems are modeled off gravestone epitaphs.
"A Christmas Carol," Charles Dickens
Perhaps one of the most famous cemetery scenes in all of literature, Dickens's scene has been adapted on stage and screen countless times since its publication.
In this scene, the miserly and miserable Ebenezer Scrooge, at the end of his Christmas Eve tour through Christmases of his past and present, is taken to a cemetery. There, he sees his own headstone and collapses, weeping, in front of it. He's then returned to his home, having learned his lesson, to start his new life.
"The Graveyard Book," Neil Gaiman
This children's book begins with the murder of the main character's parents and involves him fleeing into a nearby cemetery.
Once there, Nobody Owens (as he's called by the ghosts who inhabit the cemetery) is adopted by the spirits and raised as one of their own. This award-winning fantasy book has delighted children and adults since its publication.
"Her Fearful Symmetry," Audrey Niffenegger
In doing research for this fantasy novel, the author became a tour guide in London's famous Highgate Cemetery, where the novel is set.
This book tells the story of twin sisters who inherit a London apartment from their aunt. They later learn their aunt's ghost is trapped in the apartment, and that she is harboring dark secrets from long ago.
"Pet Sematary," Stephen King
The true master of horror couldn't get through his career without writing a novel set in a cemetery at least once, could he?
A family moves to Maine and finds a mysterious, eerie cemetery deep in the woods near their new home. This sets off a terrifying chain of events that has readers – and viewers – on the edge of their seats.
This novel was adapted into a movie in the 1980s, and a remake is due out in early 2019.
"Hamlet," William Shakespeare
Who thought graveyards could be both funny and creepy?
The famous scene where Hamlet holds up the skull of Yorick and says, "Alas, poor Yorick" includes two gravediggers who seem to be having entirely too much fun doing their jobs.
Quality Granite Headstones & More in Maryland
For more than 85 years, Merkle Monuments has provided exceptional grave markers and other memorial markers throughout Maryland. Take a look at our offerings online, or give us a call today to discuss your needs.