5 Things to Consider When Choosing an Urn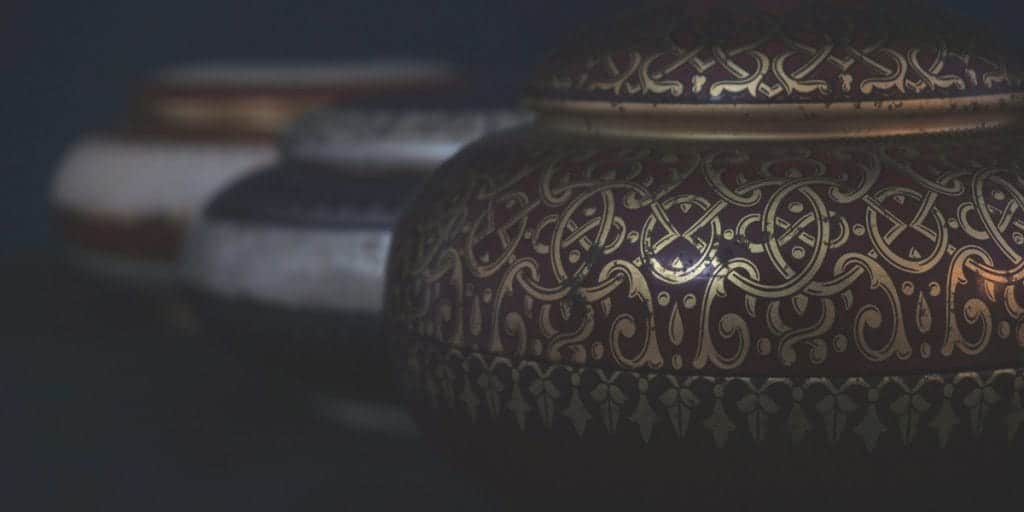 Choosing an urn for a loved one is an incredibly personal decision. Like selecting a burial plot, casket, and headstone, an urn is a final resting place that can be as simple or as extravagant as you'd like.
There are many types and styles of urns to choose from, and the decision can seem overwhelming. To help you narrow down your choices, we've compiled this list of 5 important things to consider when choosing an urn:
Purpose
While all urns are options for your loved one's final resting place, determining how the urn will be used is an important first step to choosing the right urn.
If you plan to scatter the ashes somewhere, such as a favorite vacation spot or in the backyard, look for a scattering urn. These urns are often designed with wider necks to aid in scattering the ashes, and they're made of less sturdy materials since their use is temporary. For water scattering, consider a water burial urn which is designed specifically to biodegrade and be safe for the fish or other inhabitants of the body of water.
For urns that will be buried, look for burial urns. These can come in less-expensive biodegradable options if your loved one was concerned about the environment, or cultured marble options for a more permanent choice.
If you plan to display the urn at home or in a mausoleum, you'll want to look for a sturdier urn, such as one made of marble. This will protect the ashes and can be engraved or decorated to suit your wishes.
Size
The urn you ultimately choose is going to depend somewhat on the size of your loved one. For most adult burials, you'll need to find an adult urn. These urns can accommodate the ashes of an adult that weighed up to 200-220 pounds. For taller or larger adults, an extra large urn will be required.
Many companies make their urn designs in a variety of sizes, so the size you require may not limit your choices on design or materials. However, you will want to consider what size an urn is available in before settling completely on materials or design, as size could dictate what's available.
Style & Material
Once you've got your choices narrowed down based on purpose and size, it's time to look at style of the urns and the materials they're made of. Thankfully, you can find urns in pretty much any material you can think of – wood, glass, marble, brass. Urns even come in biodegradable options such as cotton and clay for those burials or scatterings where a traditional urn isn't appropriate.
Choose a material that speaks to the purpose of the urn (burial, scattering, or displaying) as well as your loved one's personal choices. If you need help finding the right urn for you, your funeral director or monument company can give you some guidance.
Personalization Options
Adding small touches to remind you of your loved one can bring a sense of comfort to your grieving process. Whether you go with a wooden or paper urn that is painted a favorite color or with a marble urn that's engraved with your loved one's name, there are many options to make the urn more unique and reflective of your loved one.
When choosing an urn, personalization is likely to go hand-in-hand with choice of material, as the more permanent materials such as brass or marble are going to be more difficult and expensive to personalize. However, that doesn't mean that you can't have a unique urn made from a sturdy material; affixing a brass photo frame to the urn, for example, allows you to include a picture of your loved one without incurring the cost of engraving.
Price
While you may not want to think about choosing a final resting place for your loved one based on the cost, it's a fact of life that most people don't have unlimited amounts of money to spend on urns. Urns can range from incredibly affordable – between $100 and $200 for beautiful, biodegradable urns – to the thousands of dollars for elaborate pieces from expensive materials.
Your budget is going to largely determine the material you choose, as well as any personalization options. Determine how much you can reasonably spend before going urn shopping and it will make finding the right urn a lot easier and less overwhelming.
High-Quality Urns in Maryland
For more than 85 years, Merkle Monuments has been Maryland's premier choice for exceptionally crafted urns, columbarium, memorial markers, and more. Our dedicated team can help you and your family choose the right option for your loved one, and we work hard to get all the details correct the first time. When it's time to choose an urn for a departed loved one, trust a business that has served the local community for decades. Call today for a quote!