6 Things to Consider When Choosing a Headstone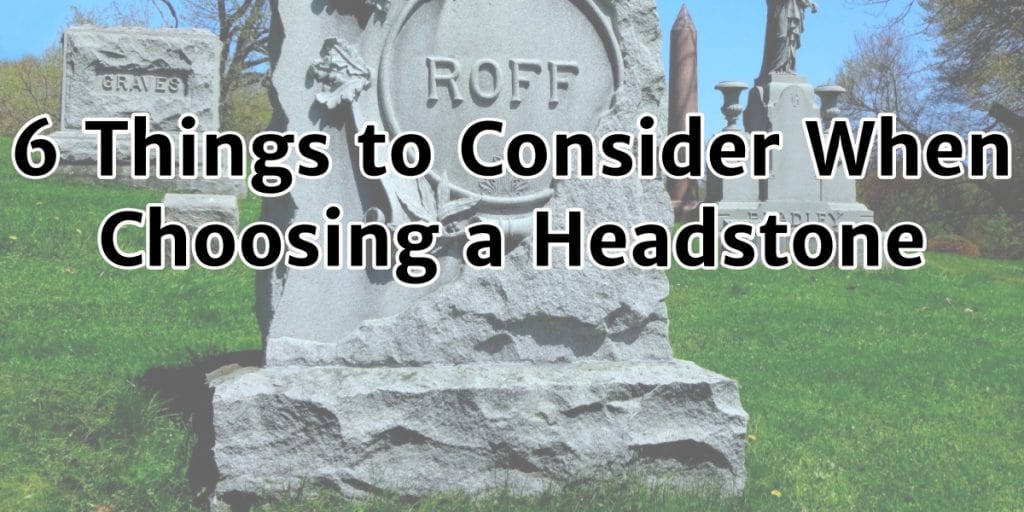 Choosing a headstone is more than just deciding what the engraving should be. Instead, you need to consider a variety of factors when selecting the right headstone for your loved one's grave.
Here are 6 important things to keep in mind when shopping for a headstone:
Rules
Some cemeteries have rules about what sizes, colors, and types of grave markers can be used.
For example, one cemetery may only allow in-ground markers for ease of maintaining the landscaping. Others may limit the size of the stone, and still some may not allow extra items on a headstone, such as flower vases.
Before you go shopping for a headstone, be sure to carefully check with the cemetery to learn their rules. Get them in writing, too, so you can take them with you when shopping and the sales people can help you find a stone that complies.
There's nothing worse than choosing and paying for a headstone only to find something about it goes against the cemetery's regulations.
Quality
You want a headstone to last for generations, so going for cut-rate materials or sub-par work isn't going to get you the longevity you want.
Before you select a monument company to work with, do some research on them.
See how long they've been in business, whether they have any endorsements or partnerships, and read customer reviews. You may even ask your chosen cemetery for some recommendations of companies they've had good experiences working with.
Size
Do you want a large headstone with room for engraved pictures or bronze work? Or would you prefer a smaller marker that sits closer to the ground?
The size you envision for the headstone is going to impact a lot of your choices down the line, such as material, cost, and features you can add to it.
If you're unsure of a size you might want, visit the cemetery plot and take a look around. Are all the stones of similar size and design? If so, you may want to keep your stone around those same size dimensions to avoid looking completely out-of-place.
Budget
A big consideration for many people is how much a headstone will cost.
The larger the stone you choose, or the more intricate the design, the higher the price will be. If you're looking for something that's really on a budget, a smaller in-ground marker with the name and dates engraved on it is probably your best choice.
Adding photo engraving, bronze casting, or additional features such as a candle holder are going to increase your costs significantly.
Be sure to clarify your monument company's policy on changes or corrections so you don't get surprised by an additional bill for re-doing a headstone inscription that the company messed up in the first place.
Design
Would you prefer a more elaborate design with religious symbolism or an epitaph? Or is just the deceased's name and birth and death dates sufficient?
Once you have an understanding of how much money you have budgeted to pay for a headstone, you can begin thinking about all the details you'd like to add to the headstone. From engraving to bronze casting, statues to two-toned stones, there are a variety of options available to memorialize your loved one.
The bigger your budget, of course, the more options you have when choosing design elements. However, having a smaller budget doesn't necessarily mean you won't be able to purchase a beautiful headstone.
Work with your monument company to determine what elements do and do not fit within your budget, and which things you can easily move from the "needs" category to the "wants" category to make some room.
Materials
There are several options for monument material, including granite, bronze, sandstone, slate, and marble.
Each material has its own pros and cons, as well as giving its own unique character to the finished product.
For example, granite and bronze are considered the most durable and easiest to maintain. Sandstone, granite, and slate offer the widest range of color options.
Whatever material you choose, work with your monument company to find something that fits your design vision, cemetery regulations, and your budget to create a beautiful, lasting testament to your loved one's life.
Exceptional Gravestones in Maryland
For more than 85 years, Merkle Monuments has been Maryland's premier provider of headstones, memorial markers, and more. We partner with Rock of Ages to give you the highest-quality materials available in the industry paired with our exceptional craftsmanship and design. Let us help your memorial marker make a lasting impression – Get your project started today!