Monuments and Memorials in Maryland
Creating Quality Cemetery Markers, Urns,Veteran Memorials and More
Merkle Monuments has over 80 years of experience crafting high quality memorials and monuments in Maryland.  We have worked with hundreds of families and believe in the importance of honoring and preserving the memories of loved ones.  Our years of experience running a family owned business and working together side by side with families is what makes Merkle Monuments unique.  Take comfort in the fact that Merkle Monuments has the knowledge, experience, and skills required to craft a memorial for your loved one that will last throughout the generations.  We offer a variety of products in Maryland.
Veteran Memorials in Maryland
Merkle Monuments has created a variety of veteran memorials over the last 80 years.  We have crafted veteran memorials out of bronze, granite, stone, and other materials.  To the right is an example of one of our quality crafted memorials honoring the Baltimore County Police.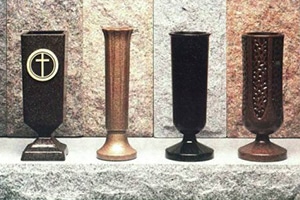 Urns and Vases in Maryland
Merkle Monuments has worked closely together with families to create urns and vases that will allow you to cherish the memories of your loved ones for years to come. Our experience of working with hundreds of families and understanding their needs and wishes surrounding their memorials allows us to have the ability to design and create the perfect urn or vase.
Marble Repairs and Cleaning in Maryland
Merkle Monuments offers a variety of services to keep the memorials dedicated to your loved ones in like-new condition.  We offer:
Bronze Marker Resurfacing
Marble Repair
Contact Merkle Monuments today to learn more about our Memorials, Monuments, Urns, Vases, Landscape Lettering and other services at (410) 922-4200 or fill out the contact form on the left hand side of this page.
Merkle Monuments provides memorials, monuments, bevel markers, mausoleums, and more to Maryland. Our service areas include Baltimore County, Frederick County, Montgomery County, Howard County, Anne Arundel County, Carroll County, Washington County, Charles County, Prince George's County, Kent County, Cecil County, Calvert County, St. Mary's County, and more.